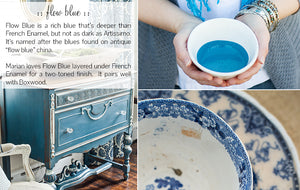 Flow Blue
Miss Mustard Seed's Milk Paint Color: FLOW BLUE
Flow Blue is a rich blue that's deeper than French Enamel, but not as dark as Artissimo. It's named after the blues found on antique "flow blue" china. Marian loves Flow Blue layered under French Enamel for a two-toned finish. It pairs well with Boxwood.
Miss Mustard Seed's Milk Paint is an all-natural paint
 containing 5 basic ingredients: casein (milk protein), chalk, clay, oxide (natural pigments), and limestone. It can be used on any porous surface without a primer. It will never chip or peel on porous surfaces as it soaks in and binds with the substrate. It is suitable for both interior and exterior applications and is naturally mold resistant. Milk paint provides a completely breathable coating and is ideal for painting wood, plaster, drywall and a variety of other surfaces.  
It is environmentally friendly, non-toxic and contains no VOCs. One quart of milk paint covers approximately 70 sq. feet. Painting with Milk Paint is unlike any paint you've ever used! Therefore,take extra care and follow some of our valuable tips for making the painting, waxing and buffing process go smoothly!